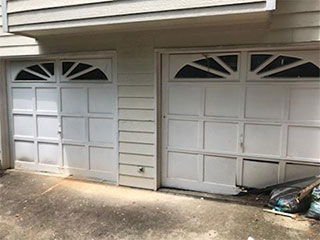 Our company offers a comprehensive range of repair services that can cover any problem you may come to experience. If your opener stops working, your springs break or some part of your panels gets damaged, you can count on our help.
Repairing And Replacing Panels
Doors can be easily damaged by accidents, and even metal models can pick up dings and dents over the years, if not become completely rusty and broken. Our team can quickly repair dents when necessary, restoring your garage exterior to perfect condition. In addition to this, our team also supplies and fits new panels for major door brands like Clopay, Amarr and Raynor, providing a fast and affordable alternative to an entirely new door. Panel replacement can be quite complex, so we'll be happy to carry out the necessary work for you.
We Repair Rollers
The rollers that help your door move can have a big impact on the system's efficiency, especially if they become damaged. Worn or broken rollers make your opener and springs work much harder than they should, and can lead to much more wear and tear than necessary. Our team can remove and replace damaged rollers with top quality new steel or nylon units, and we will ensure the new ones we install are properly lubricated (if they need to be) to ensure their optimal movement.
New Doors And Openers
We don't just fix these systems when they break down - our team also offers professional installation services for new door and new opener models as well. If you're looking to upgrade your current system, we can help you find the perfect new model for your needs. We'll make sure everything is set up properly and that all of the system's new features are working correctly.
Give Us a Call
If one of your springs or cables breaks unexpectedly, or you find that your tracks have become bent, our experts at Garage Door Repair New Rochelle can quickly and safely solve the problem. Aside from calling us, you can also use our website to schedule an appointment online.
In addition, we offer:

Fix Garage Door Track

Roller Replacement

Bottom Seal Rubber

Replace Door Sections